WATER SAFETY IN A BAG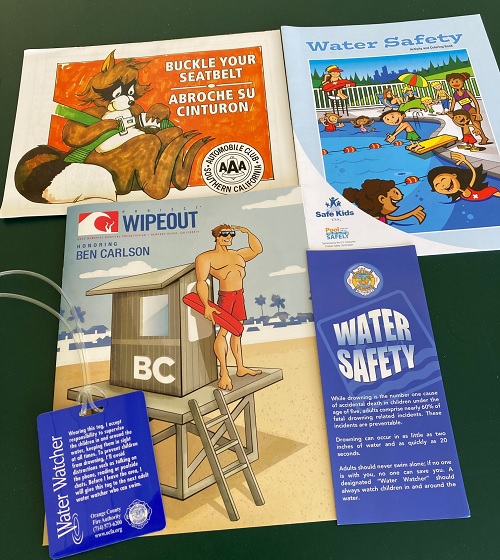 Clinic in the Park distributes our "Water Safety in a Bag" to our community partners for their clients.
A special Thank You to the Orange County Fire Authority for providing water watcher tags in English and Spanish, and Project Wipeout and the Ben Carlson Foundation, Hoag Memorial Presbyterian Hospital contributed the coloring book.
To download our Child Water Safety flyer (English version), click here.
To download the Child Water Safety flyer (Spanish version), click here.
MORE WATER SAFETY RESOURCES
American Academy of Pediatrics (AAP) Drowning Prevention Toolkit
AAP Policy Statement: Prevention of Drowning
Clinic in the Park Article:  This Pool Season: One Drowning is One Too Many
YouTube Video with Nicole Hughes
Nicole lost her beloved son Levi in a drowning accident. In the video, Nicole shares her story and an important message on drowning prevention.
Meow Meow Foundation
The California State Assembly has proclaimed that the third week in May is "Roxie's Wish: Drowning Prevention Week for Children,"  in order to encourage counties, cities and school districts to support national goals relating to drowning prevention. This initiative is in honor of Roxie Mirabelle Forbes who suffered a preventable drowning at a recreational summer camp. Roxie's parents, Doug Forbes and Elena Matyas, have established the Meow Meow Foundation to eliminate preventable childhood drowning and camp-related injuries, deaths and abuse.