Celebrate Child Passenger Safety Week (September 19-25, 2021) by taking steps to prevent a child from sustaining an injury while traveling in a car.

Make sure every child — your family members, patients and clients are reminded that children should travel in a size appropriate car seat in every car and on every trip.
Check out one of our parent guides — The Right Seat, which covers seat selection, position, and location in the car. You can download the English, Spanish or Vietnamese versions.
Make sure your adolescents and all adults are buckled up as well.
Remember distracted drivers put us at risk. The cell phone should not be used. 22% of child passengers who are killed are involved in crashes that involve impaired drivers. In fact, over half are riding with the impaired driver.
Data informs policy: California's First Child Passenger Law. Our UC Irvine Childhood Injury Prevention Research Team (Agran, Winn, Anderson) was awarded a grant in the 1980's by then-Director of the California Office of Traffic Safety, Tom Lankard to conduct research documenting that the risk of a car crash injury was reduced if the child was in a car seat compared to traveling unrestrained. This led to Larry Agran working with then-Assemblymember Mel Levine to craft what became SB 537, Child Seat Restraint Bill (1982). This was the first statewide child passenger safety law that since has been incrementally improved.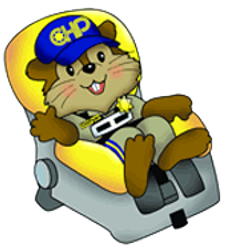 Current California Law:
Children under 2 years of age shall ride in a rear-facing car seat unless the child weighs 40 or more pounds OR is 40 or more inches tall. The child shall be secured in a manner that complies with the height and weight limits specified by the manufacturer of the car seat. (California Vehicle Code Section 27360.)
​Children under the age of 8 must be secured in a car seat or booster seat in the back seat.
Children who are 8 years of age OR have reached 4'9" in height may be secured by a booster seat, but at a minimum must be secured by a safety belt. (California Vehicle Code Section 27363.)
Passengers who are 16 years of age and over are subject to California's Mandatory Seat Belt law.
Clinic in the Park, a project of AAP-OC, would like to congratulate our Child Passenger Safety Technician Instructor, Erin Malone, MPH for her well-deserved award by The Raise Foundation. Erin is a nationally certified Child Passenger Safety Technician Instructor, with special training in occupant protection for children with special medical needs. Through her work, Erin has personally ensured that thousands of children who do not even know her name are protected because they travel in car seats.