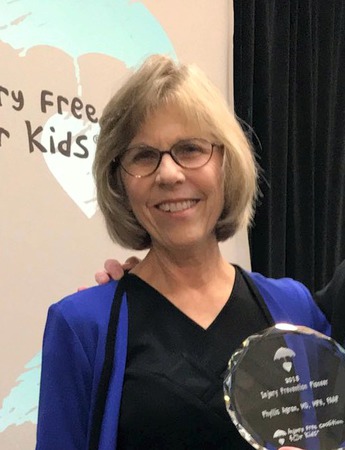 Phyllis Agran, MD, MPH, Professor Emeritus, UCI and Founder of Clinic in the Park •Connect •Screen •Educate received the Pioneer at the 2018 Annual Meeting of the
Injury Free Coalition For Kids held in Fort Lauderdale, Florida. She is a forerunner in the field of injury prevention, one who is an innovator and a calculated risk taker, blazing trails where there have been none, and one who does not remain silent when needs are not met.
The Injury Free Coalition for Kids is among the country's most effective injury prevention programs. The Coalition is national program developed with funding from the Robert Wood Johnson Foundation comprised of hospital-based, community-oriented programs whose efforts are anchored in research, education and advocacy. Currently, the Coalition includes more than 30 sites located in just as many cities, housed in the trauma center of their participating institution. Founder, Barbara Barlow, MD, Professor of Surgery in Epidemiology, Director Injury Free Coalition for Kids, Mailman School Public Health Columbia University Medical Center presented the award for her research and advocacy in preventing childhood injuries.